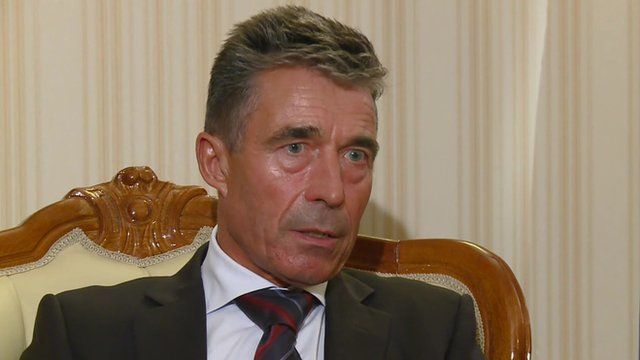 Video
Ukraine conflict: Nato 'concerned' over Russian troop build-up
Nato is "very concerned" about the "massive" military build-up of Russian troops along its border with Ukraine, the organisation's Secretary-General says.
Anders Fogh Rasmussen said he believed Russia was developing a pretext for undercover action, such as sending peacekeepers or humanitarian assistance into eastern Ukraine.
In an interview with the BBC's David Stern, Mr Rasmussen defended the West's response to Russia, saying economic sanctions were having a "negative impact" on the country's economy.
He also criticised the actions of Ukraine's separatist rebels, initially preventing investigators accessing the site of downed Malaysia Airlines flight MH17, suggesting that "they had something to hide".
Go to next video: Putin aims sanctions at EU and US