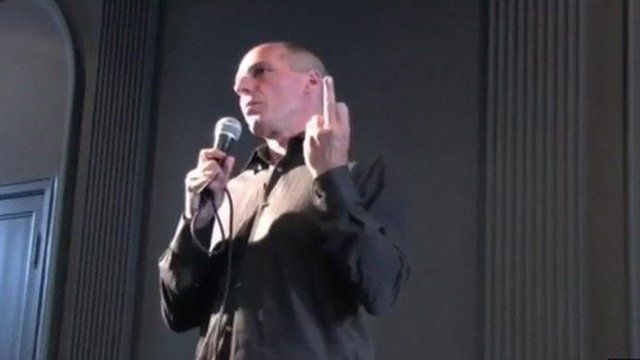 Video
Greece debt: Varoufakis 'raised middle finger' in 2013 talk
A video apparently showing Greek Finance Minister Yanis Varoufakis making a rude gesture when referring to Germany, a lead creditor, has caused controversy.
Mr Varoufakis denied raising his middle finger to Germany, while the man who filmed the clip broadcast on German television said it had been taken out of context.
The original footage was reportedly recorded at an event in 2013 in the Croatian capital of Zagreb.
In the 57 minute-long discussion, Mr Varoufakis talks about the eurozone crisis talks in 2010, and says he had suggested at that time that Greece should "stick the finger to Germany", while using the offending gesture.