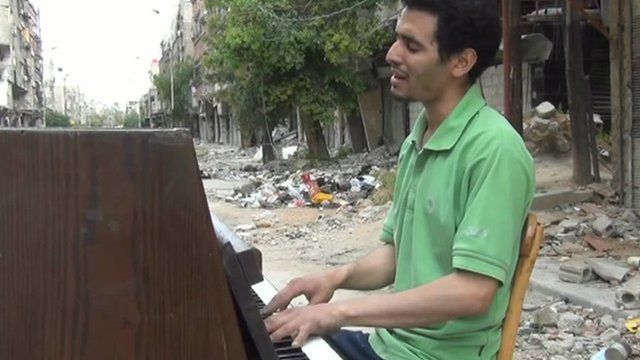 Video
Pianist's perilous journey from Syria to Europe
Amid the ruins of the destroyed Yarmouk Palestinian refugee camp on the outskirts of the Syrian capital, Damascus, pianist Ayham al-Ahmad provided a rare glimmer of hope amid the devastation.
Videos of him defiantly playing piano in the ruined streets of Yarmouk, accompanied by children and other residents of the camp, were widely shared online as a symbol of the camp's spirit of resistance.
But now, Ayham al-Ahmad has had to join the millions who have fled Syria.
He spoke to the BBC's Ian Pannell along each part of his route, explaining what eventually forced him to leave - and his perilous journey to Europe.
Go to next video: The pianist of Yarmouk camp