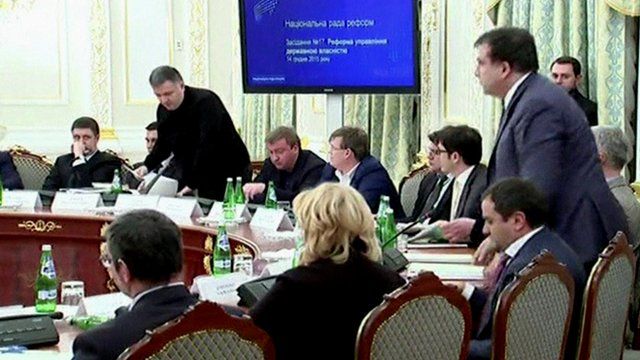 Video
Water thrown in Ukrainian government row
As infighting deepens among top officials in Ukraine, Interior Minister Arsen Avakov has published video of a spat with former Georgian President Mikheil Saakashvili, who is now governor of the southern Odessa Region.
At a meeting of the National Council for Reforms on Monday, the two politicians traded accusations of corruption and populism, and at one point Mr Avakov threw a glass of water at Mr Saakashvili as President Petro Poroshenko looked on.
In a statement issued after the meeting, President Poroshenko called the incident "shameful" and warned officials not to trade personal insults. He also criticised Mr Avakov for telling Mr Saakashvili to "get out of Ukraine".
Mr Avakov has denied the allegations of corruption in an angry Facebook post and said President Poroshenko should have stopped Mr Saakashvili from interrupting him.
Mr Saakashvili is the most high-profile of a number of former Georgian officials helping the Ukrainian government to implement reforms.
Official meetings in Ukraine can get rowdy and tumultuous. Last Friday, there were scuffles in the Ukrainian parliament as an MP tried to drag Prime Minister Arseniy Yatsenyuk off the rostrum.
BBC Monitoring reports and analyses news from TV, radio, web and print media around the world. You can follow BBC Monitoring on Twitter and Facebook.
Go to next video: Brawl erupts in Ukrainian parliament