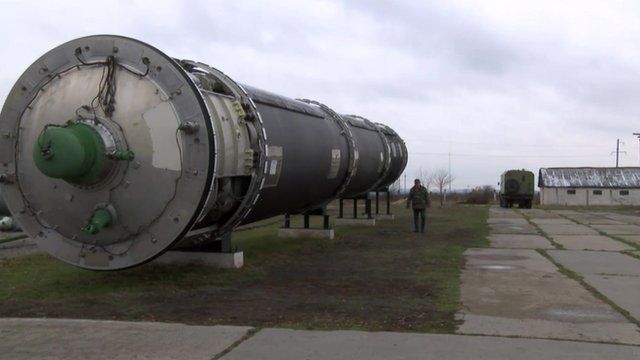 Video
Tour of the museum that houses Ukraine's nuclear past
It was one of the most feared weapons of the Cold War and was dubbed "Satan" by Nato.
The USSR's SS-18 missiles were over a thousand times more powerful than the bombs that destroyed Hiroshima and Nagasaki with the full arsenal capable of global destruction.
After the fall of the Soviet Union, similar missiles - called SS-24s - ended up in the hands of Ukraine, which agreed to decommission them.
Ukraine has put an SS-18 on show at a museum in Pervomaysk. The missile silos there are a tourist attraction and reminder of the nation's nuclear past.
The SS-18s were deployed in Russia and Kazakhstan.
Produced by Albiy Shudrya (correspondent) and Anastasiya Gribanova (camera) of BBC Ukrainian.
Go to next video: Putin's nuclear 'sabre-rattling'