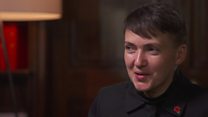 Video
Nadiya Savchenko: Jamie Oliver got me through hunger strike
The Ukrainian pilot who was imprisoned for two years in Russia and freed in May, Nadiya Savchenko, says celebrity chef Jamie Oliver got her through her hunger strike.
During her imprisonment, Savchenko went on hunger strike twice - for 83 days on one occasion.
She told Newsnight that celebrity chef Jamie Oliver helped her through those difficult days, as she watched him on Russian TV.
"I used to look at the pictures of food and it was enough for me to get full. And so with Jamie Oliver, I cheerfully spent all my moments of hunger, and I am grateful to him for this."
Go to next video: Warm welcome for Ukraine's Savchenko