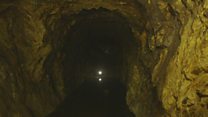 Video
Inside the Riese project - a tunnel complex built by Nazis
Between 1943-45 the Nazis used forced labourers and prisoners of war to build a series of fortified tunnels near the Polish town of Walbrzych.
The tunnels measure 9km (5.5 miles) and are known as the Riese ("Giant") project.
The surviving documentation is inconclusive but some say the tunnels, which were never completed, were designed to be a new headquarters for Hitler, while others believe they could also be used as an underground weapons factory.
Some of the tunnels are now open as a tourist attraction.
The area has seen a rise in tourism after two men said they had found the so-called Nazi gold train - a local legend which says that a train carrying gold was hidden by the Germans at the end of World War Two.
The search was abandoned when it was revealed the radar images of what looked like a buried train was a rock formation.
Explorers have been looking for the train for decades.
The BBC Travel Show's Henry Golding travels to Walbrzych to find out more.
Watch more clips at The Travel Show website.