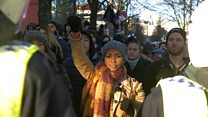 Video
100 Women 2016: The woman who faced down 300 neo-Nazis
It was an extraordinary show of defiance. One woman standing alone, her fist raised... 300 uniformed neo-Nazis marching towards her. The photo of Tess Asplund became an icon of the fight against the far right in Europe. As part of the BBC's 100 Women season, we travelled to her hometown of Stockholm, as she once again took to the streets to make a stand.
Video journalist: Joe Inwood
Our 100 Women season showcases three weeks of inspirational stories about 100 influential and inspirational women around the world . We create documentaries, features and interviews, giving more space for stories that put women at the centre.
We want YOU to get involved with your comments, views and ideas. You can find us on: Facebook, Instagram, Pinterest, Snapchat, and YouTube using the hashtag #100Women. You can also listen to the programmes.
Spread the word by sharing your favourite posts and your own stories using #100women
Go to next video: The true story behind the iconic photo