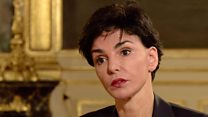 Video
100 Women 2016: Rachida Dati on why powerful women have betrayed the poor
Born to North African parents, Rachida Dati has risen to become one of the most high profile, yet controversial, female politicians in France.
The former presidential advisor served as justice minister under Nicolas Sarkozy, before becoming a Parisian MEP.
As part of the BBC's 100 Women season, she spoke to Yalda Hakim about women's rights, the migrant crisis, and why she has no sympathy for Hillary Clinton.
Produced by Kirsty Mackenzie.
What is 100 women?
BBC 100 Women names 100 influential and inspirational women around the world every year. We create documentaries, features and interviews about their lives, giving more space for stories that put women at the centre.
Other stories you might like:
'I married a man to keep my girlfriend'
'Adults are so obsessed with children they have no time for important things'
Who is on the BBC's 100 Women 2016 list?
Go to next video: Alicia Keys on make-up, sexism and Trump