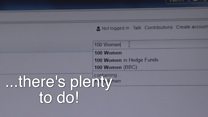 Video
100 Women 2016: We are hosting a Wikipedia edit-a-thon.
If you're doing research on the internet, only around 17% of notable profiles you'll find on Wikipedia are of women. If you are a woman, you are 27 times more likely to be abused online. So is the internet sexist? And if you think it is, can you do something about it?
BBC 100 Women is hosting a 12 hour edit-a-thon on 8 December. There will be 15 events in 13 countries happening in multiple languages to grow the number of female editors and add women who deserve to be recognised.
Find out how you can get involved by watching this video. And then don't forget to share who you have added, using the hashtag #100womenwiki.
What is 100 women?
BBC 100 Women names 100 influential and inspirational women around the world every year. We create documentaries, features and interviews about their lives, giving more space for stories that put women at the centre.
Other stories you might like:
'I married a man to keep my girlfriend'
'Adults are so obsessed with children they have no time for important things'
Who is on the BBC's 100 Women 2016 list?
Go to next video: 100 Women 2016: Vadera on sexism in banking