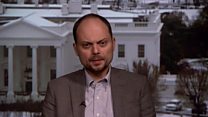 Video
Vladimir Kara-Murza: High mortality rate of Putin critics
A Russian opposition activist has told BBC Hardtalk that he has been poisoned twice by the Russian security services.
Vladimir Kara-Murza is an outspoken critic of President Vladimir Putin's government and is vice-chairman of pro-reformist movement Open Russia.
The official diagnosis in his hospital notes was a "toxic action by an unidentified substance" which he says "translates from medical language into ordinary language as poisoning".
He believes that he was targeted primarily because of his support for the United States' Magnitsky Act, which identified Russian individuals accused of human rights abuses for sanctions by the US.
The law was named after Sergei Magnitsky, a lawyer investigating allegations of state corruption, who died in police custody in 2009.
Mr Kara-Murza, who was a close friend of murdered Russian opposition leader Boris Nemtsov, also said that corrupt individuals in the Russian government were taking advantage of Western banking and education systems.
"They want to rule inside Russia like it's a Third World dictatorship. But they also want to use all the privileges and freedoms and opportunities of the Western world," said Mr Kara-Murza.
You can see the interview in full on Thursday 16 March on BBC World News and the BBC News Channel and after on BBC iPlayer (UK only).
Go to next video: 'Within six hours my body organs shut down'