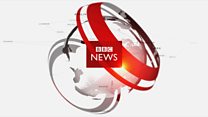 Video
Orly airport attack: CCTV shows moment soldier grabbed
CCTV from Paris' Orly Airport reveals the moment a man attacked a female soldier, before being shot dead minutes later.
The attacker, 39-year-old Ziyed Ben Belgacem, is seen carrying a green shopping bag, which he suddenly drops and grabs the soldier.
He wrestles for her gun before dragging her away, followed by two other armed soldiers.
Within three minutes, Belgacem was shot dead and his hostage is seen crawling away from his body.
This video has been optimised for mobile viewing on the BBC News app. The BBC News app is available from the Apple App Store for iPhone and Google Play Store for Android.