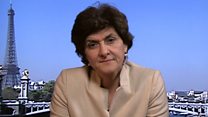 Video
Sylvie Goulard: We will not endorse Manuel Valls
The MEP and member of the recently rebranded La Republique en Marche party Sylvie Goulard has confirmed that they will not endorse the former prime minister of France, Manuel Valls as a candidate in forthcoming parliamentary elections.
Ms Goulard told BBC Hardtalk's Shaun Ley she could not say whether en Marche would win a majority in those elections, but if they did not, she could see them cooperating with Republicans such as the former prime minister Alain Juppe.
Emmanuel Macron - who will be inaugurated as president of France on Sunday - will announce his choice for prime minster on Monday.
Ms Goulard advised Macron during the presidential campaign and has been tipped for a senior position.
The parliamentary elections will be held over two rounds - on 11 and 18 June. All 577 seats will be contested.
Watch the full interview on BBC World News and the BBC News Channel on Thursday 11 May 2017.