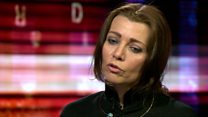 Video
Elif Shafak: Turkey support for EU membership waning
Elif Shafak, the Turkish novelist and writer who lives much of her life in London, says public support in Turkey for joining the EU has waned recently amid anti-Western rhetoric.
She tells Hardtalk's Stephen Sackur it was "very sad" that support for joining the EU was declining having been very high a few years ago.
She said: "Government officials are saying that public opinion now is quite negative. That is also not unrelated to the fact that constantly the government itself is producing this anti-western rhetoric...
"I want Turkey sharing the same values that matter so much in Europe. We have such a long history together."
There were financial, political and cultural ties with Europe that went back to the days of the Ottoman Empire, she said.
You can see the interview in full on Monday 15 May on BBC World News and the BBC News Channel and after on BBCiPlayer (UK only).
Go to next video: EU-Turkey row 'contributing to' far-right