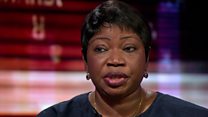 Video
ICC 'following' evidence on Afghanistan war crimes claims
There is a "reasonable basis" to believe that allegations of war crimes and crimes against humanity were committed in Afghanistan by US troops, the Taliban and Afghan forces, Fatou Bensouda, Prosecutor of the International Criminal Court (ICC) has told Hardtalk.
She said she was "following the evidence" and "following the law" in the investigation.
The ICC has also called for the arrest and surrender of Saif al-Islam Gaddafi, who was released by a militia in Libya last week after six years in jail.
The son of late leader Col Muammar Gaddafi is wanted for alleged crimes against humanity during the rebellion that ousted his father in 2011.
Ms Bensouda said she had recently met Libya's Prime Minister Fayez al-Sarraj and was promised "very good co-operation". Libya's leader had also promised to "look specifically on this transfer and surrender of Saif al Gaddafi".
Saif al-Islam Gaddafi case: ICC calls for arrest of ex-Libya leader's son
You can see the interview in full on Monday 3 July on BBC World News and the BBC News Channel and after on BBCiPlayer (UK only)