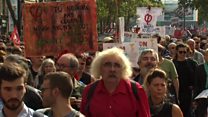 Video
Can President Macron transform France?
France's President Emmanuel Macron is driving far-reaching reforms to transform his country.
The government plans to cut 120,000 public sector jobs in France over the next five years and has overhauled labour laws making it easier to hire and fire staff.
Last month, thousands of people demonstrated in Paris against the changes to the labour laws and millions of public sector workers took part in a nationwide one-day strike against the economic reforms on Tuesday.
Mr Macron has seen his popularity slide dramatically since he came to power in May, but he is still determined to prove his reforming instincts despite the protests, as BBC Hardtalk's Stephen Sackur reports.
Watch the full programme Hardtalk On the Road in France on BBC World News and the BBC News Channel on Wednesday 11 October 2017. Watch again on BBC iPlayer (UK only).