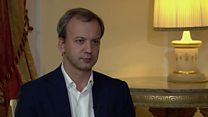 Video
'Russia is not handing over any Russian citizens'
Arkady Dvorkovich, who until May 2018 served as Russian deputy prime minister, tells Stephen Sackur that they will not be extraditing the two alleged suspects in the Sergei Skripal poisoning case.
Mr Dvorkovich - who is currently campaigning to become the chairman of the World Chess Federation - says Russia has "not been provided with any evidence" that two Russian agents carried out the poisoning in Salisbury, UK, in March 2018.
On 5 September 2018 the UK's Crown Prosecution Service (CPS) named Alexander Petrov and Ruslan Boshirov as suspects in the case, while the UK secured the support of the US, France, Germany and Canada at a UN Security Council meeting - at which they agreed with the UK's assessment, that Russia's government "almost certainly" approved the poisoning.
You can see the Hardtalk interview in full on Monday 10 Sep on BBC World News and the BBC News Channel and after on BBC iPlayer (UK only).
Go to next video: Lavrov: 'No evidence' for Syria attack