Media player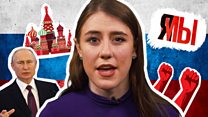 Media playback is unsupported on your device
Video
Я/МЫ: Why are Russians using this symbol?
It's a symbol that is uniting groups of people in Russia on an unprecedented level. It's even thought to have helped release some people from police custody and some say that the use of the symbol has posed challenges for Vladimir Putin.
But what is it, what does it mean, and why are Russians using it more and more?
Reporter: Marianna Spring, BBC Minute
Video Journalist: Olivia Le Poidevin, BBC Minute
If you want more stories like this go to BBC Minute's Instagram page.