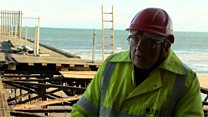 Video
Victorian Queen's Pier set for makeover on Isle of Man
A group of volunteers has started the painstaking restoration of a 130-year-old Victorian pier on the Isle of Man.
The Queen's Pier Restoration Trust (QPRT) want to restore the Ramsey landmark, which has been closed since 1991, to its former glory.
The first phase will see important steels replaced on its first bay and entrance.
It is estimated the overall restoration of the 700m structure, which was built for the Isle of Man Harbour Board in 1886, could cost about £1.5m.