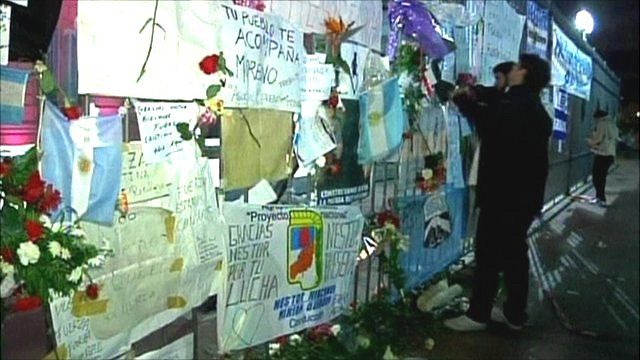 Video
Thousands remember ex-president Kirchner in Argentina
Thousands of people gathered at Argentina's government house in the capital Buenos Aires to mourn former president Nestor Kirchner, who has died of a heart attack.
Mr Kirchner served as president from 2003 to 2007, and was being tipped to stand for election again in 2011.
His wife, Cristina Fernandez de Kirchner, succeeded him in 2007, after he had overseen Argentina's recovery from a severe economic crisis.
Representatives of Grandmothers of Plaza de Mayo, who have spent years fighting for justice for relatives lost during the military dictatorship from 1976 to 1983, were also present in honour of Mr Kirchner's efforts to prosecute those who committed human rights crimes.
Go to next video: The political career of Nestor Kirchner