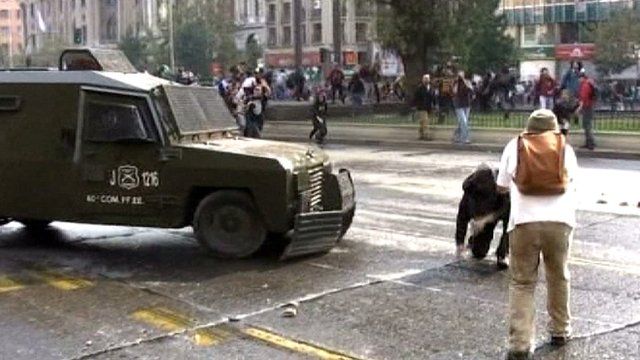 Video
Clashes in Chile as students demand more education funding
A demonstration in the Chilean capital Santiago has turned violent as student protesters demanding more education funding clashed with police who used water cannons and tear gas against them.
The students say the higher education system is being used to generate profits for the government instead of educating people.
President Sebastian Pinera appeared on national television to outline tax reforms expected to raise around $700m (£433m), much of which will be funnelled to the country's education system.
"Thanks to these measures no young Chilean will ever again be excluded from higher education because of a lack of resources... This is something that fills me with pride," Mr Pinera said, according to Efe.
The government has also proposed measures to reduce the interest rate on student loans from 6% to 2%.
Deborah Basckin reports.
Go to next video: Second day of clashes at Chile protests