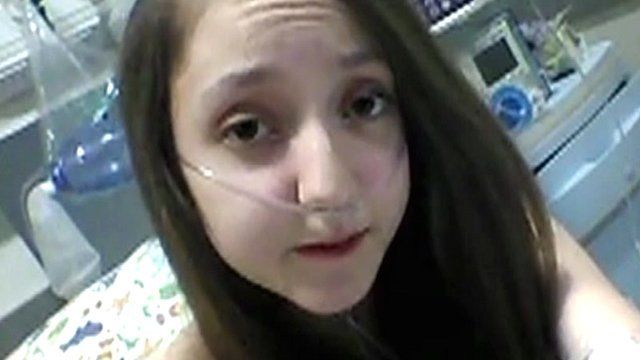 Video
Chilean girl Valentina Maureira, 14, in euthanasia plea
A 14-year-old Chilean girl who suffers from cystic fibrosis has made an emotional plea to be allowed to die.
Valentina Maureira uploaded a video to her Facebook page on Sunday from her hospital bed.
It shows a recording of her asking President Michelle Bachelet to authorise her euthanasia.
Presidential spokesman Alvaro Elizalde reportedly responded, saying: "It is impossible not be overcome by emotion with the girl's request, it's impossible to grant her wish because it's not allowed under Chilean law."
Elizalde said the health ministry was in contact with the family of Valentina Maureira and offering support.
BBC Mundo's Constanza Hola said Valentina's message had prompted a debate about a person's right to die.
Go to next video: Bronwen Davies on her mother's death