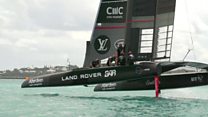 Video
Bermuda basks in the America's Cup
Bermuda is hosting this year's America's Cup - one of the world's biggest sporting events regarded as the Formula 1 of the boat world - the most prestigious event in sailing.
Over the past few weeks six international teams have been racing across Bermuda's waters in super-fast hydrofoil catamarans. The finals in the competition begin this weekend.
The Travel Show's Ade Adepitan joins the crowds enjoying the competition and talks to Sir Ben Ainslie of Britain's Land Rover BAR.
Sir Ben, who won medals at five consecutive Olympic Games, tells of his concerns of our oceans are being polluted by plastic.
The Travel Show can be seen on BBC World News and the BBC News Channel.