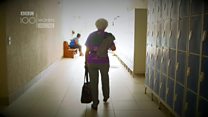 Video
100 Women: The 93-year-old swimmer still winning medals
Nora Ronai, 93, says she's faced sexism in her life, but it hasn't stood in the way of her achieving her goals. She only became a professional swimmer in her 60s, and has broken two world records.
Video journalist: Dina Demrdash; Producer: Lourdes Heredia
What is 100 Women?
---
BBC 100 Women names 100 influential and inspirational women around the world every year. In 2017, we're challenging them to tackle four of the biggest problems facing women today - the glass ceiling, female illiteracy, harassment in public spaces and sexism in sport.
With your help, they'll be coming up with real-life solutions and we want you to get involved with your ideas. Find us on Facebook, Instagram and Twitter and use #100Women