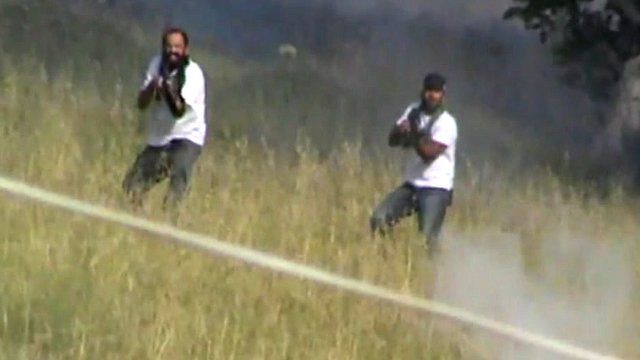 Video
Armed settlers aim at Palestinian youth
The Israeli human rights group, B'Tselem, has released a video that appears to show Israeli soldiers standing by while Jewish settlers open fire on stone-throwing Palestinian protesters in the West Bank, wounding one of them.
In this section of the video, a group of men in white t-shirts, carrying assault rifles, is standing just outside the village.
These are older settlers from Yitzhar. The fields behind them are now burning.
A group of Israeli soldiers enters the scene from the right. The Palestinian youths start throwing stones at the soldiers and the armed settlers.
Two of the armed settlers aim at one Palestinian youth just meters away and open fire. He goes down behind a rock wall.
As the settlers retreat other Palestinian villagers rush in to drag the injured man away.
He has been shot in the side head. Fortunately the wound is not serious.
Footage courtesy of B'Tselem