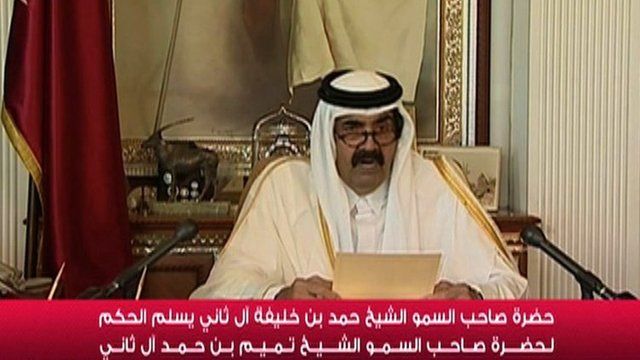 Video
Qatari emir Sheikh Hamad hands power to son Tamim
The Emir of Qatar, Sheikh Hamad bin Khalifa Al Thani, has handed over power to his son, the Heir Apparent Sheikh Tamim bin Hamad Al Thani.
In a speech broadcast on Qatari television, he said it was time for a new generation to take over.
Rumours had been circulating for days that Sheikh Tamim, 33, was preparing to succeed his 61-year-old father.
A peaceful handover is a rarity for the Gulf, where most rulers stay in place for decades, normally until they die.
Aleem Maqbool says though some see the timing as "strange", others will view it as a "calculated risk".
Go to next video: Taliban office row stalls peace talks