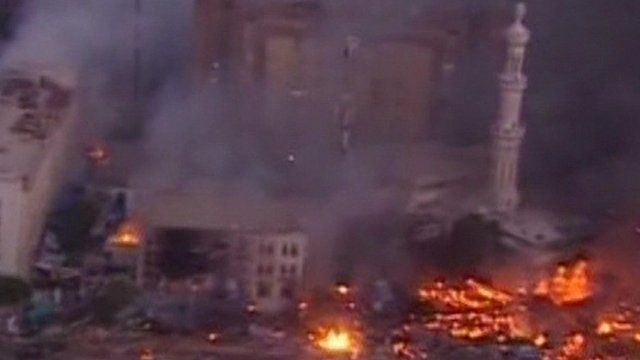 Video
Aerial footage shows Cairo burning
A curfew was in place across much of Egypt on Wednesday evening following a day of violence.
Egypt's interim PM Hazem Beblawi has defended the deadly operation to break up protest camps in Cairo, saying the authorities had to "restore security".
The government, which has declared a nationwide state of emergency, said 149 people were killed in the operation.
The Muslim Brotherhood, which backed the protests, says more than 2,000 people died in the violence.
Police have taken control of the camps in the capital and are reported to have arrested key Brotherhood leaders.
Aerial footage shows multiple fires on the streets of Cairo as night falls. The BBC's Bethany Bell says the streets are "eerily quiet".
Go to next video: 'Why are they killing us?'