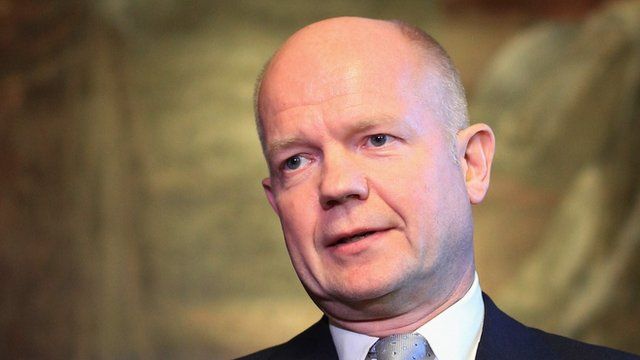 Video
Hague: Syria chemical weapons 'largest stock in world'
Foreign Secretary William Hague has said dealing with Syria's chemical weapons will be a huge task.
He told the Today programme's Justin Webb that Syria probably had the largest stock of chemical weapons in the world, spread on many sites in a country which was a contested battlefield.
But he said it should be possible to put them beyond use, provided the international community was insistent and the regime was compliant.
Mr Hague explained that he hoped a resolution would be put to the UN Security Council over the weekend and although that timetable could slip he hoped for a deal in "days not weeks".
Britain would be willing to send inspectors to deal with the chemical weapons if there was a UN agreement but British troops would not be sent to provide security, he added.
"We won't be deploying boots on the ground in Syria," he said.
First broadcast on BBC Radio 4's Today programme on Tuesday 17 September 2013.
Go to next video: How bloggers joined Syria chemical team