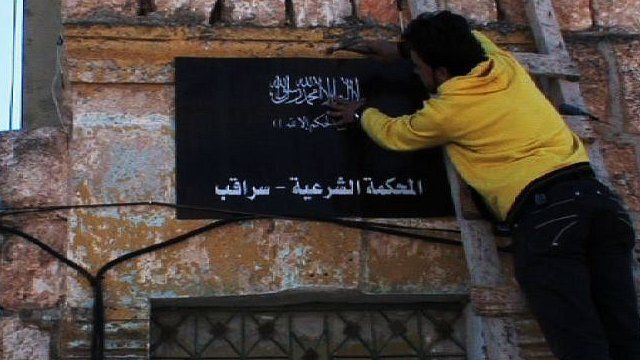 Video
The Battle for Syria's Courts
Through unprecedented access to the al-Nusra Front, the powerful and influential group affiliated to al-Qaeda, this BBC Arabic film reveals how the Islamists exercise justice based on their strict interpretation of Islamic Law in Saraqib, Northern Syria.
In parts of Syria where government forces have lost control, rebel forces are taking over. Abu-Qedama, al-Qaida's envoy in Saraqib, North-Eastern Syria, is Jordanian. His task is to ensure that Sharia Law is enforced.
This BBC Arabic film follows him and his fellow Islamists in Saraqib, showing how they are taking control of the city. The film-makers get inside the courts and reveal how Sharia Law is applied. We see the judge at work in the Court and issuing his judgment on the public square. For the first time, we see a public flogging before a large crowd of people, as a deterrent to others.
But not all citizens agree with their views or tactics. The film shows some taking to the streets in protest. Although united with the Islamists in their opposition to the Assad regime, they have a different vision for Syria's future. This tension is now symptomatic of tensions within the opposition throughout the country.
Go to next video: Syrian Women's Diaries