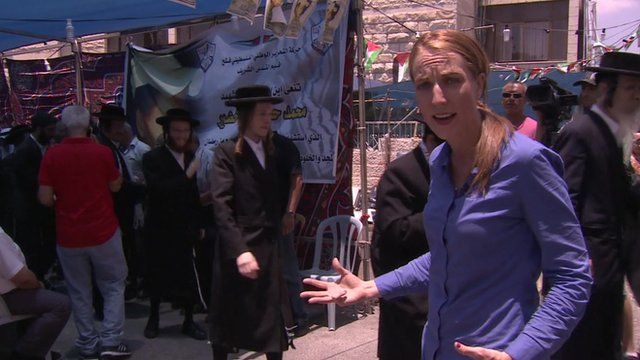 Video
Visitors pay respects at Khdair mourning tent in Jerusalem
Attempts are being made to clear up the East Jerusalem neighbourhood close to the family home of Mohammed Abu Khdair, the Palestinian teenager murdered last week.
People have continued to visit a mourning tent near Mohammed Abu Khdair's house.
A post-mortem examination suggests he was burnt alive. Anger over his death, which is believed to be a revenge attack for the earlier murders of three Israeli teenagers in the West Bank, has fuelled five nights of violence in Arab areas of Jerusalem and Arab-Israeli towns and cities. Six Jewish Israeli suspects have been arrested.
Yolande Knell reports from Shufat.
Go to next video: Cousins: 'All we can do is throw rocks'