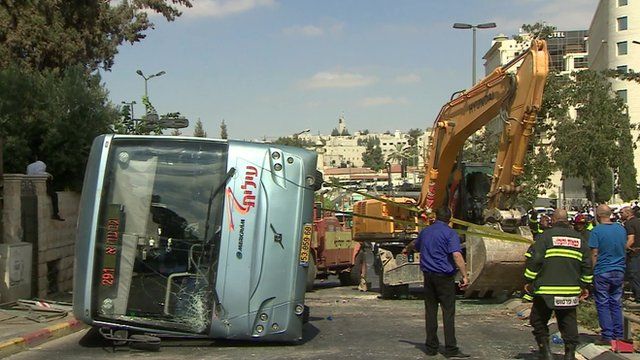 Video
Israel: Digger overturns bus in Jerusalem
Israel's Prime Minister Benjamin Netanyahu has vowed the campaign in Gaza will continue "until quiet and security are returned to the citizens of Israel".
A truce on Monday slowed violence in Gaza, although Palestinians said Israel broke it by hitting a house in Gaza City.
Two attacks on Israelis were reported in Jerusalem and Israel said militant rocket fire from Gaza had continued.
In Jerusalem a construction vehicle driven by a man, identified by police as a Palestinian from east Jerusalem, overturned a bus in an ultra-Orthodox neighbourhood.
A passer-by was killed and several people were injured before police shot dead the driver of the digger.
James Reynolds reports from Jerusalem.
Go to next video: Jerusalem: Digger 'attack' topples bus