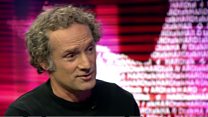 Video
Theo Padnos: My ordeal as captive of al-Nusra in Syria
US journalist Theo Padnos was held captive in Syria by what was known as Jabhat al-Nusra (the Nusra Front) from 2012 to 2014. Al-Nusra was at the time a Syrian affiliate of al-Qaeda.
He tells Hardtalk's Zeinab Badawi that he was "terrified" of his captors and never knew from day to day whether he would live or die.
His ordeal began in October 2012 when he met three men in Turkey who said they could put him in touch with the Free Syrian Army. But the trio quickly turned on him, beating him severely. He managed to escape but then fell into the hands of al-Nusra.
For almost two years he was subjected to beatings and kept in small, darkened cells at various locations before his captors released him to a United Nations team near the Syrian-Israeli border in August 2014.
You can see the interview in full on BBC iPlayer (UK only).
Go to next video: US should 'play a role' in Syria talks