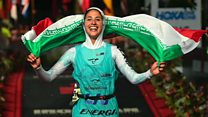 Video
International Women's Day: Iran's first female triathlete
It is International Women's Day and events are taking place across the world.
As part of our coverage, we are looking at women who have broken the mould.
This is the story of how one Iranian female athlete overcame many obstacles to make history.
Video Journalist Camelia Sadeghzadeh, produced by Aine Gallagher
What is 100 women?
BBC 100 Women names 100 influential and inspirational women around the world every year. We create documentaries, features and interviews about their lives, giving more space for stories that put women at the centre.
Other stories you might like:
What is International Women's Day?
Why I can't post images of things going wrong
The village where grannies go to school