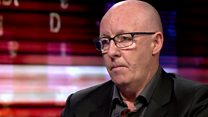 Video
'No military or humanitarian solution' to Yemen crisis
All the parties involved in the Yemen conflict need to return to talks, the UN humanitarian co-ordinator for Yemen Jamie McGoldrick has told BBC Hardtalk.
"There is no military solution, there is certainly no humanitarian solution to this crisis," said Mr McGoldrick, "what we are looking for is an opportunity for these people to get back to that table, to stop the war, to silence the guns, give us a ceasefire, give us a chance to deliver more assistance and give us the resources," he added.
Asked whether he thought the parties involved in the conflict cared about or considered the humanitarian suffering in the country, Mr McGoldrick said: "I think it's unfortunate that on the one hand we are being supported from a humanitarian point of view by the same people who are arming the parties who are keeping the conflict moving."
Yemen has been devastated by a war between those allied to the Houthi rebel movement and the Saudi-led coalition supporting the government of President Abdrabbuh Mansour Hadi.
The UN says more than 7,600 people have been killed and 42,000 injured since the conflict escalated in March 2015.
You can see the interview in full on Wednesday 3 May on BBC World News and the BBC News Channel and after on BBC iPlayer (UK only).