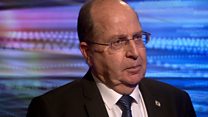 Video
Ya'alon: Some Israeli politicians becoming extreme
Certain Israeli politicians are moving towards racism, the former defence minister Moshe Ya'alon has told BBC Hardtalk's Stephen Sackur.
"I found too many politicians generating hatred against someone, against the Arabs, against leftists, against the media, against the Supreme Court, which is a challenge," said Mr Ya'alon, adding he thought it could be dealt with.
"This is not the vast majority of politicians, but it is unfortunately not stopped by the prime minister and that is why I had too many disputes with him," he said.
Mr Ya'alon resigned from the government in May 2016 and warned that Israel had been taken over by "dangerous and extreme elements".
He is now forming his own political party and intends to run for prime minister in 2019 election.
Watch the full interview on BBC World News and the BBC News Channel on Wednesday 28 June 2017 or watch again on BBC iPlayer (UK Only)