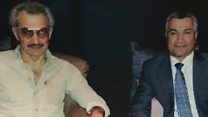 Video
Inside Saudi Arabia's anti-corruption campaign
The BBC has heard details about how Saudi Arabia's anti-corruption drive is being conducted. It began in November with the rounding-up and detention of dozens of citizens, including members of the royal family.
A Canada-based businessman who was flown to the kingdom to help the authorities construct a case against the billionaire investor Prince Alwaleed bin Talal has been talking to Newsnight's Mark Urban.
Since this report, Prince Alwaleed bin Talal has given an interview to the Reuters news agency, saying that he is well, expects to be released in the coming days and to retain all his assets.
Go to next video: Inside Saudi Arabia's gilded prison