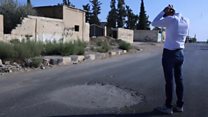 Video
Syria chemical attacks: How one man lost his family in Khan Sheikhoun
Abdul Hamid Youssef lost his wife, his 11-month-old twins, two brothers, his cousin and many of his neighbours in the 4 April 2017 chemical attack on Khan Sheikhoun, Syria.
More than 80 people were killed in the attack and almost 300 wounded.
"I lost the most precious people in my life", Mr Youssef said as he returned to the scene of the attack.
A joint investigation by BBC Panorama and BBC Arabic has determined that there have been at least 106 chemical attacks in Syria since September 2013.
The Syrian government has denied using chemical weapons.
Go to next video: What it's like to be in a chemical attack