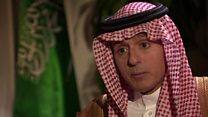 Video
Saudi foreign minister: Our leadership is a red line
Saudi Foreign Minister Adel al-Jubeir has dismissed calls for the removal of Crown Prince Mohammed Bin Salman as "ridiculous", following the murder of journalist Jamal Khashoggi.
In an interview with BBC Chief Correspondent Lyse Doucet, he maintained that the government was not involved, saying the incident was a "rogue operation" for which people who had "exceeded their authorities" would be punished.
He said that suggested sanctions against members of the royal family, and calls for the country's leaders to be removed from office, were considered a "red line" in Saudi Arabia.
Go to next video: Khashoggi's impact on the war in Yemen