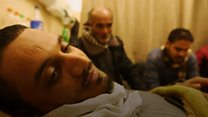 Video
'The Gaza blockade is strangling us'
In Gaza, 2m people are poised to slip deeper into poverty, and basic services are at risk of collapse, according to the UN.
It is calling for $350m from international donors, following a drop in US funding for Palestinians.
Gaza's economy has been badly affected by a blockade by Israel and Egypt, which was tightened after Hamas took full control of Gaza more than a decade ago.
Israel says the blockade is necessary to stop attacks by the militant group.
Inside Gaza, 54% of the labour force is unemployed, according to the World Bank, and the UN says 97% of tap water is unfit for human consumption.
Mishal Husain visited the Bolbol family to find out what life under the blockade is like.
Go to next video: Gaza: The history behind the anger