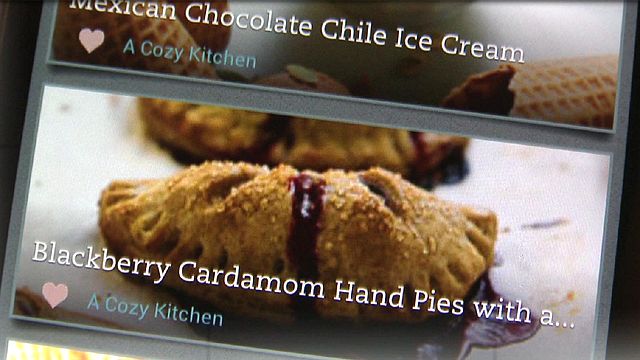 Video
Webscape: An app to make food more memorable
Kate Russell's weekly review of the best apps and websites.
Tech-curious parents can get some support at Quibly, a new social platform where you can talk to experts and other concerned parents about the risks and opportunities presented by technology.
When it comes to web clipping tools, Evernote is one of the industry stalwarts and foodies might be interested to know they now have a dedicated food app for iPhone and Android that lets you store and explore a feast of delicious web content.
Make sure your photographic intellectual property is covered and earn some extra cash by putting your images on Stocksy, a new co-operative for stock photography where people can buy and sell high quality images in a nicely presented marketplace.
If your photograph is sold you get 50% of the standard licence fee and any extended licences go 100% to the photographer.
A brand new music discovery app was launched this week that lets you hear what your friends or those around you are listening to. It is called Soundwave and is free for iPhone and Android.
Wimbledon 2013 starts on Monday and BBC Sport will be acing the digital coverage this year with the most comprehensive line up of live and on demand content yet. Up to 10 live streams from the event will be served through the web, connected TVs, tablets, a new mobile site and brand new apps for iPhone and Android.
Watch more clips on the Click website. If you are in the UK you can watch the whole programme on BBC iPlayer.
Go to next video: Webscape: Marathon app