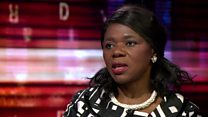 Video
Madonsela: South Africa's 'problem' with corruption
Thuli Madonsela was at the helm of the South African anti-corruption watchdog until late 2016. It exposed a web of worrying connections between the state and big business interests.
As allegations of cronyism and corruption are piling up around Zuma's government, she tells Hardtalk's Stephen Sackur that there is indeed a "very serious problem" with corruption in South Africa.
Although the evidence she gathered in her state capture report mainly relates to President Jacob Zuma and companies aligned to businessmen from the Gupta family - who deny the allegations - she says the only way to eliminate doubt and restore trust is to have a commission of inquiry.
Despite the corruption, she says she remains optimistic about South Africa's future.
South Africa's Zuma 'not afraid of jail' amid corruption allegations
South Africa court allows secret Zuma no-confidence vote
You can see the interview in full on Thursday 22 June on BBC World News and the BBC News Channel and after on BBCiPlayer (UK only).