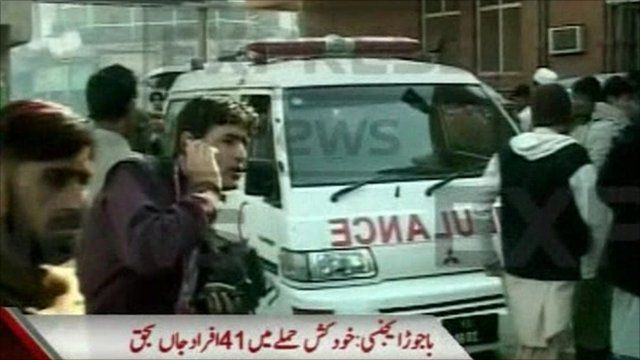 Video
Deadly Pakistan suicide blast hits crowd of hundreds
At least 40 people have died in a suicide bomb attack on a large crowd receiving aid in north-west Pakistan.
The blast took place in the town of Khar in the Bajaur region, in tribal areas close to the Afghan border - a Taliban and al-Qaeda stronghold.
Speaking from Islamabad, the BBC's Aleem Maqbool said most of the victims are believed to be civilians who had fled fighting between Taliban militants and the Pakistani army.
He told the BBC's Jonathan Charles that the victims are among the most vulnerable people in the north-west.
Pakistani television has broadcast footage of victims arriving at hospital.