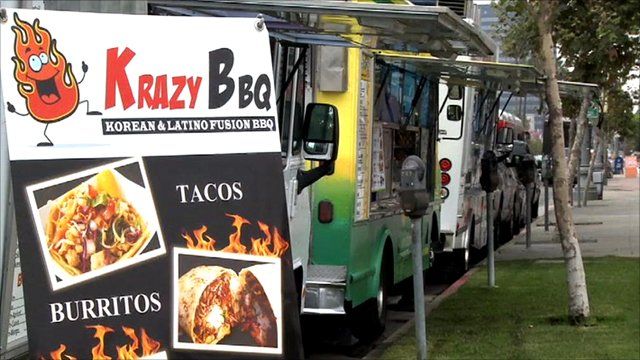 Video
Close-Up: LA's gourmet food trucks
This BBC News series focuses on aspects of life in countries and cities around the world. What may seem ordinary and familiar to the people who live there can be surprising to those who do not.
Roving trucks selling gourmet food on the streets are a popular phenomenon in Los Angeles.
With everything from Korean tacos to strawberry cupcakes on offer, the trucks are proving a winner with locals who have an eclectic taste in food but want the convenience and lower prices of eating on the run.
And thanks to social networking sites and blogs like Find LA Food Trucks, it is now possible for hungry LA residents to track the whereabouts of their favourite trucks, making sure they can find them when they crave one particular meal.
Peter Bowes took a culinary tour of LA's streets.
Go to next video: Close-Up: A corner of Korea in India