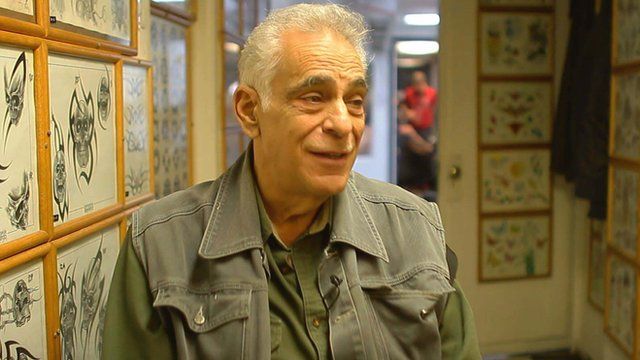 Video
Legendary tattoo artist still inking aged 77
In the underground world of New York tattoos, far from the stylish shops in Greenwich Village, Tony Polito is a legend.
He started in the business back in 1959, the same year he got his first tattoo. He was 14 years old. Back then, the customers were mainly sailors and the parlours could be found in Coney Island or on the Bowery - a street as rough then as it is fancy today.
In 1961 tattooing was declared illegal in New York, because of fears of a hepatitis epidemic. Artists either moved out of the city or, as was the case with Tony, started up unauthorised operations in backrooms and basements.
"For a couple of years I was the only one in town," he remembers. He had 50 to 80 clients per day. They mostly wanted it "fast and cheap".
In 1997, the ban was lifted and fashionable shops opened everywhere in the Village. "In the 60s it was rough, you had to know your karate," Tony says.
After adding another tattoo - a Bible and psalm - to the back of Mike Perfetto, another renowned artist, Tony, now 77, talked to the BBC about more than half a century spent tattooing bodies.
Produced by Anna Bressanin, camera by Ilya Shnitser
Go to next video: Pakistanis flock to tattoo parlours