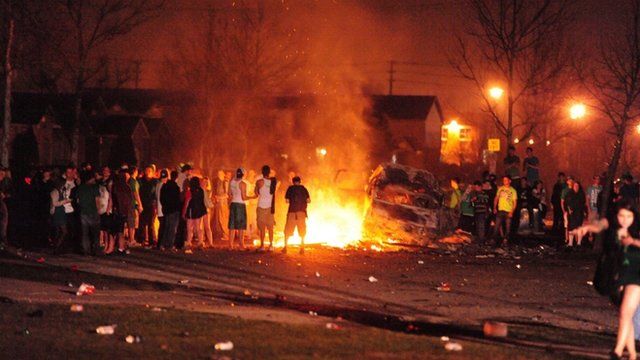 Video
St Patrick's Day riot in London, Ontario, Canada
Rioters fought with firefighters and police in the Canadian city of London, Ontario, as St Patrick's Day parties spiralled out of control overnight.
Dozens of police were drafted in to deal with the unrest, which was sparked when several student parties spilled on to the streets.
Rioters hurled bottles at police and set a TV truck alight, feeding the flames with a propane tank and TV sets.
Brad Duncan, Chief, London Police Service, said his officers had "never been subjected to this kind of violence" before.
Joe Fontana, Mayor of London, said the behaviour was unacceptable.
Eleven people were arrested and police appealed for rioters to come forward.
Go to next video: Vancouver riot after hockey final