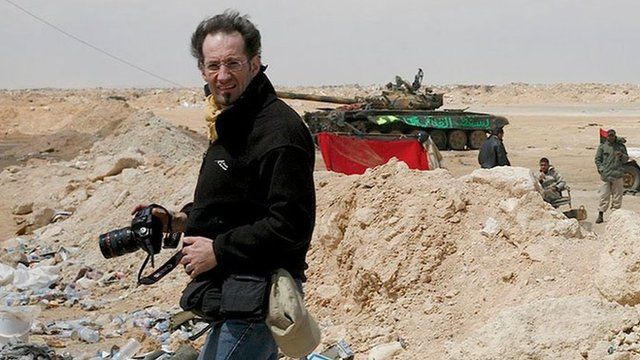 Video
War photographer Anton Hammerl remembered at auction
Photojournalist Anton Hammerl was killed in Libya while covering the uprising against Colonel Gaddafi in 2011.
Like many freelance photographers and reporters who cover conflicts, Hammerl had no insurance. He leaves a widow, Penny Sukharj, and three children - the youngest is one year old.
His journalist friends Claire Gillis and James Foley were with him when he died and were themselves held hostage for 44 days. They helped organise an auction to raise funds for his children's future education.
Photos by some of the world's best-known photojournalists - including a classic image made on D-Day by Robert Capa - were donated to the auction, held at Christies in New York.
Produced by Anna Bressanin; camera by Ilya Shnitser.
Photos courtesy of AP Photo/Saturday Star; Andy Rain/EPA; Steve J. Lafontaine; Manu Brabo; David Brabyn; Samuel Aranda; Jessica Hill/AP Photo