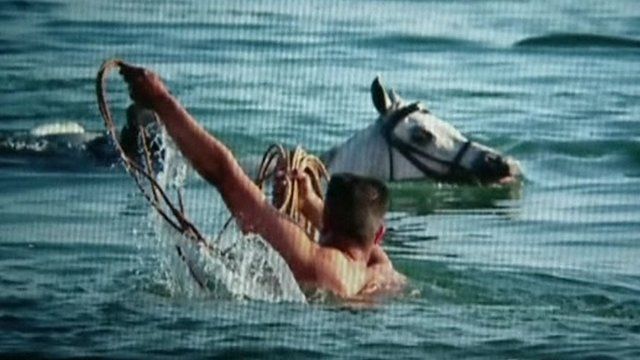 Video
Horse rescue two miles out at sea in California
A dramatic horse rescue has taken place in Summerland, California, after a photo shoot at the beach went wrong. The horse being used panicked and bucked the rider off, according to Santa Barbara Harbor Patrol.
It then swam about two half miles out to sea. Harbor Patrol and the Santa Barbara Coast Guard had to secure the horse to the side of the boat to bring it back to shore.
The horse was exhausted when it arrived on shore, but it was thought to be otherwise well.
Officer Ryan Kelly, of the Santa Barbara Harbor patrol, said it was not the sort of rescue he had ever tried before.
The boat's captain, Paul Noury, said the most important thing was to keep the horse's legs from getting too close to the propeller.
Go to next video: Lifeboat rescue for cliff fall horse