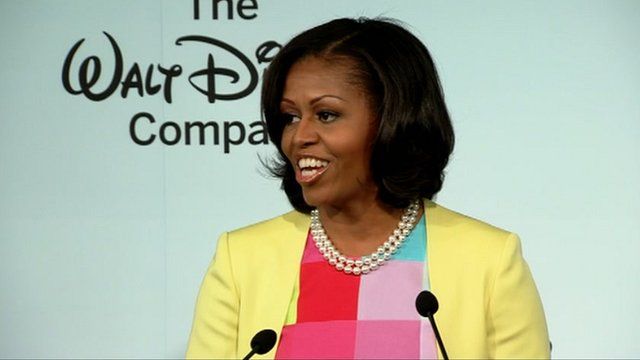 Video
Michelle Obama backs Disney health push
US First Lady Michelle Obama has hailed a Disney plan to raise standards on foods advertised on its children's TV channels.
The plan aims to ban junk food advertising in a bid to begin lowering rates of childhood obesity in the US.
Disney also aims to change the food it sells at its theme parks and in retail stores, introducing a new "Mickey Check" sticker it will use to guarantee the quality of food on sale.
The guidelines will not go into effect until 2015 because of pre-existing contracts, but Mrs Obama - a keen advocate of healthy living - described the initiative as "a "game-changer for the health of our children".
Disney says its guidelines are aligned with federal standards to promote the consumption of fruit and vegetables and reduce the intake of sodium, sugar and saturated fat.