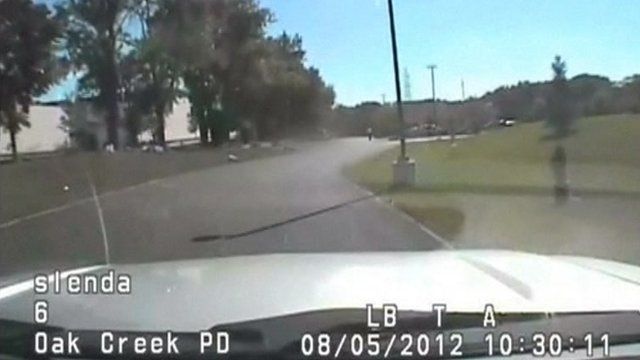 Video
US police release Sikh shooting dashboard camera footage
Police in the US have released dashboard footage, showing the gunman who killed six people and injured three others, in an attack on a Wisconsin Sikh temple last month.
The gunman, Wade Michael Page, 40, was killed during the attack. A police officer shot him in the stomach before Page fatally shot himself in the head, according to the FBI.
The footage, released by the police, shows Lieutenant Brian Murphy running towards the gunman and then getting shot at, as he tries to take cover. He still recovering.
Further video, also filmed from the dashboard of a police car, shows Officer Sam Lenda arriving and exchanging fire with Page.
Speaking at a news conference, Officer Lenda said: " I backed up, accessed my rifle, and then pulled back in."
Go to next video: Politicians address US Sikh funeral