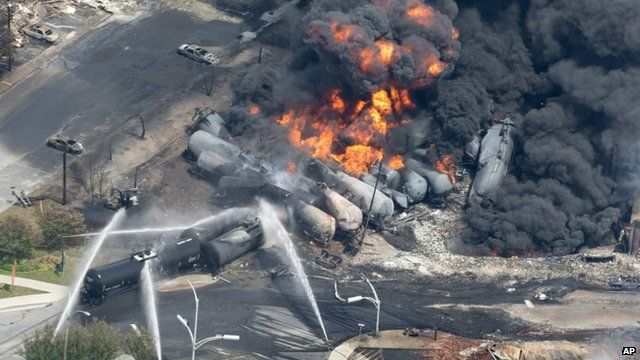 Video
Canada train explosion: 'Everyone knows someone who's unaccounted for'
Around 60 people are still missing after a driverless train carrying light crude oil exploded in a small Canadian town.
Up to 1000 of Lac-Megantic's 6000 residents were forced to evacuate when the train came off its tracks and rolled downhill into the town - a number of its cars, which were filled with fuel, exploding.
Train company Montreal, Maine & Atlantic told Canada's La Presse newspaper that the train had been parked outside Lac-Megantic during an overnight driver shift-change.
No casualties have been confirmed but CBC journalist Willy Lowry told BBC News that in such a small town "everyone knows someone who's unaccounted for."
Go to next video: Deaths feared in 'major catastrophe'